QuikClot
QuikClot® hemostatic devices are different from standard surgical gauzes and other hemostatic agents. They stop bleeding significantly faster and are more effective than standard gauzes1,2—and they are just as safe and intuitive to use.11
 Unlike other hemostatics, QuikClot® devices are impregnated with kaolin, an inorganic mineral that accelerates the body's natural clotting ability1,4 and produces no exothermic reaction. You or your team can achieve hemostasis confidently—without worry of instigating an allergic response. 
QuikClot® devices do not contain:
Animal proteins
Human proteins
Shellfish
Botanicals
QuikClot® hemostatic devices for a range of uses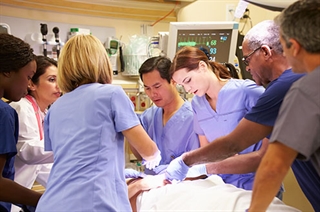 Trauma is a major cause of death and disability and the second most expensive healthcare problem in the United States. Approximately 40% of trauma-related deaths are due to bleeding or its consequences, establishing hemorrage as the most common cause of preventable death in trauma.9 
QuikClot® devices, applied with manual pressure, promote clotting within minutes from application to help you and your team save more lives.
QuikClot® devices come in many different forms and sizes, which are adaptable to treat a broad range of bleeding situations. They are trusted and relied on by: 
QuikClot® hemostatic devices at a glance:
Fast & Effective
Promotes clotting within minutes of application.
The Committee on Tactical Combat Casualty Care (CoTCCC) recommends QuikClot Combat Gauze® as the hemostatic agent of choice for compressible hemorrhage not amenable to tourniquet use.
Nonallergenic
No shellfish, human, or animal proteins
Low-to-no risk of adverse reactions

.
Intuitive
Familiar and easy-to-use format
Conforms readily to wound site
Efficient & Valuable
Less expensive than protein-based products; may reduce the need for additional expensive treatments

.

Stops bleeding faster than standard gauze

.
---