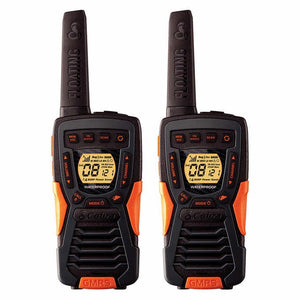 COBRA 60KM FLOATING TWO-WAY RADIO/WALKIE TALKIE (2 Pack)
COBRA ACXT1035R FLT
37-MILE FLOATING WALKIE TALKIE RADIOS
"This Cobra Floating Walkie Talkies are the perfect radio for your next hike, camping trip or other outdoor adventure. The ACXT 1035R FLT two-way radios come pre-charged and ready to use out of the box and have a max performance range of 37 miles. The radios' compact design and rubberized grip make them easy to carry in wet and dusty environments and even if you do drop them in water, the floating & waterproof (IPX7 standard) design make them ready for anything you or mother nature can throw at them.

The Cobra ACXT 1035R FLT radios also keep you prepared when you're out and about. With a build-in NOAA Weather & Emergency Radio receiver, you will always be prepared for storms and emergencies and get all government operated weather channel alerts and warnings. These alerts are automatically sent to the radio based on your location, so you don't have to remember to change channels or look for the closet weather stations. There is also an LED flashlight in the bottom of the radio should you need some additional light on your trip.

The Cobra Floating Walkie Talkies also feature the patented Rewind-Say-Again technology that allows you to replay the last 20 seconds on any missed transmission. These radios come with a dual-port charger, but can also be powered up with regular alkaline batteries should you need some additional power on your outing. Stay in touch and be prepared with the Cobra ACXT 1035R FLT Floating Walkie Talkies."
FEATURES:
Up to 37-Mile Range
22 Channels: Easy access to all 22channels and works with other GMRS/FRS walkie talkie two-way radios
10 Channel NOAA Weather Radio so you are always prepared for storms and emergencies
Floating - Never lose your radio. Floating design and orange core makes retrieving the radio easy if dropped in water.
Rewind-Say-Again® - Replay missed radio calls. Automatically records the last 20 seconds of incoming audio.
VOX - Voice-activated transmission frees hands for other tasks.
VibrAlert® - Enhanced vibrating feedback to notify you of incoming transmissions.
Built-in LED flashlight
Great For:

Biking
Camping
Hiking
Picnics
Hospitality
Exercise
Restaurants
Retail
Vacations
SPECS:
Height: 7.5 in. (190.5 mm)
Width: 2.4 in. (60.96 mm)
Depth: 1.5 in. (38.1 mm)