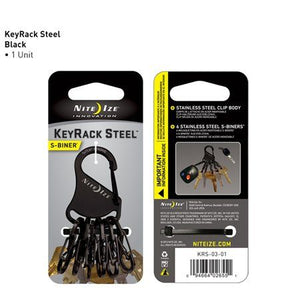 KeyRack Steel S-Biner - Black
Two options available: KeyRack Steel in Stainless finish is packaged with 6 Size #.5 Stainless Steel S-Biners. KeyRack Steel in Black finish is packaged with 6 #.5 Black S-Biners.
The KeyRack Steel's innovative S-Biners combine the innovation and versatility of the S-Biner to provide unique functionality and access to your keys.
Features a durable stainless steel carabiner clip which allows you to clip the Key Rack to an existing key chain, purse, jacket, strap or other convenient location.
The KeyRack Steel is so durable and practical, at first, you might not notice its ingenious design. Give it a day or so. Love takes time.While the KeyRack Steel might not change your entire life, it is sure to make the key parts of it a lot less complicated. Constructed of high quality stainless steel, the rack features a sturdy, secure carabiner gate closure that allows you to clip your keys onto and off of belt loops, zipper pulls, purse straps, second key rings-anything with a loop or D-ring. The bottom half is a solid loop that holds six #.5 sized Stainless Steel S-Biners that attach and release on either end to keep your keys securely and conveniently organized. Perfect for quick and easy sharing of keys with valets, mechanics, family members and babysitters, the easy on/off feature of these S-Biners also make it a cinch to take a single key from the rack when you're heading out for a run or ride.