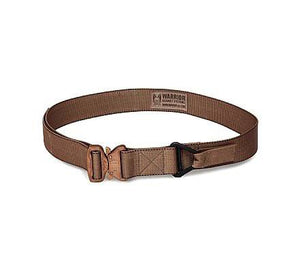 Warrior Assault Systems Cobra Elite Rigger Belt
 Made with Mil Spec materials of the highest level.
Features a safest and strongest COBRA quick release buckle in the world.
The Cobra is CNC machined from 7075 aluminum and does not open under load. The belt used is 4088 type V11 and has a breakdown voltage greater than 6000 lbs. The material is treated with a resin that makes the belt rigid but flexible, this is the perfect combination, it does not dig on the hips but is rigid enough to support a holster or drop the leg without twisting the belt.
DIMENSIONS:
- Small from 29 "to 32"
- Medium from 32 "to 35"
- Large 35 "to 38"
- XL 38 "to 41"
WARRIOR ASSAULT SYSTEMS is a leading manufacturer and distributor of military equipment and tactics. Made with REAL 1000D Invista CORDURA®, a highly technical material with high abrasion resistance and puncture (up to three times more than normal nylon). water resistant material, able to face any kind of climate and stress. Beware of false, only the true CORDURA® gives you the guarantee of a durable product over time and superior quality.