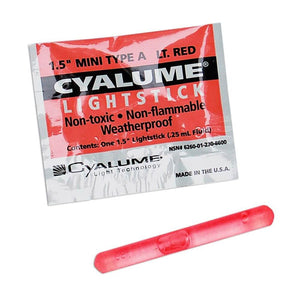 1.5" Mini Light Stick - 4 HRS - RED
These mini red ChemLights provide bright light for up to four hours. Trusted by the US Military, Special Ops Groups and SWAT teams, this mini light stick can be used for a variety of tactical and recreational activities including marking rooms, reading maps, cockpit lighting, fire-fighting "bread crumbs," rank identification, fishing and hunting.
Each light stick is individually foil-wrapped for protection from light and moisture exposure. Furthermore, the Mini ChemLight meets Defense Logistics Agency (DLA) and NATO Maintenance and Supply Agency (NAMSA) specifications, and National/NATO Stock Numbers (NSN) are printed on each product.