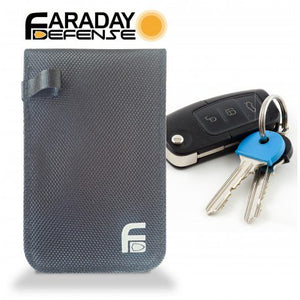 KeyFob Jacket (3'x4")
Prevent your car from being stolen with the Key FOB JACKET. Car thieves will take advantage of your FOB by boosting the signal while near your house, a parking garage, or another parking area. This allows them to get in your car and drive away. The key FOB JACKET blocks that signal from being accessed and boosted, keeping your car safe while not in use. This JACKET can also be used for USBs, SSDs and credit cards.
Faraday Bag protects Key Fob, Credit Card, ID theft and more
Heavy Duty Black Canvas Exterior, Durable Double-Fold Design, Heavy Duty Key Loop
60-80db Attenuation Blocking Range; 3" x 4-3/4" Usable Interior Area
Designed to last: Quality materials, precise stitching, strong velcro, precision design
❌BLOCK SIGNAL: Blocks Key FOB Signal, Bluetooth, Wi-Fi, Cell Signals (incl. 5G networks), GPS and RFID.
❌CYBER BLOCKING: Double layer of specialized metal-plated fabric containing nickel and copper shielding elements. Dissipates signals from both exterior and interior sources.