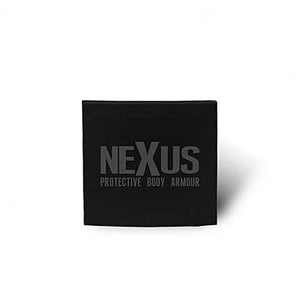 Nexus Armour - Level IV Stand Alone 6"x 6" hard armour SET
Restrictions Apply on this product. Buyer is to confirm provincial laws and one of the following ID's is required for purchase LEO/First responder ID, Military/Government ID, Security, Private Investigator, Peace Officer, PAL or RPAL. Armour will not be shipped without conformation of ID.
The Nexus Level 4 (IV) Stand Alone is a 6" x 6" (150mm x 150mm) Ceramic Plate made from Alumina Oxide Monolithic Bonded Tile construction combined with Aramid. It incorporates Double Curvature for greater usability and comfort. This is a STAND ALONE plate and does not require the use of soft armour. 

COMPATIBILITY 
Can be used in Warrior's RICAS Compact. Raptor and DCS or any other carrier that accommodate 6"x 6" plates. 
FEATURES
Alumina Oxide monolithic bonded tile with aramid and black nylon finish.
Protection Rating: NIJ Level 4(IV)
Size: (6" x 6") 150mm x 150mm Thickness: 18mm 
Shape: Double Curve
Weight: 2kg (4.4lbs) 


NIJ Level IV (NIJ 0101.06) 
Provides Ballistic protection against the following 
7.62mm x 63mm(30.06) x 2 shots 
7.62 x 54mm Heavy Ball Dragunov x 4 shots 
7.62mm x 51mm (NATO) Fal, GPMG, etc 
7.62 x 39mm  Mild Steel Core AK47 x 6 shots 
7.62mm x 39mm ball (AK47/AK-56) 
5.56mm x45mm SS109 
5.56mm x 45mm ball (M-193, M-855) 
5.45mm x39mm Russian ball (AK 74) 
NEXUS LEVEL IV STAND ALONE SIDE PLATE MONOLITHIC CERAMIC 1 PIECE 6X6" SPECS
Level 4 SA Hard Plates Ballistic Test Certificate PDF Download
Weight                    Description                                                                    Code
2.0 kg per plate      Level 4 Double Curve Stand Alone 6" x 6"  NEX-4-SA-BSP-6x6