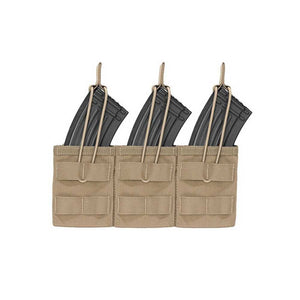 Warrior Assault System Triple MOLLE Open AK 7.62mm Coyote Tan
Triple MOLLE Open AK 7.62mm – Coyote Tan Product code: W-EO-TMOP-AK-CT
The Warrior 7.62mm mag pouch with elastic retention for fast smooth mag changes is a low profile pouch. Utilizing the MOLLE system pouches can be configured side by side or stacked up suiting the individual operators preference.
Each pouch has 2 MOLLE arms at the rear for attachment and takes up 2 horizontal rows of MOLLE.
Premium Grade Fabric
500D Nylon fabric feature enhanced tear and abrasion resistance, and long lasting durability, 500D Nylon fabric made with solution dyed yarns are inherently stain resistant and easy to clean.
High Quality Threads
Thread quality is fundamental to the construction, durability and strength of the equipment.
Two factors have a negative impact on the life Span of threads
1) Mildew is one of the most common factors in the deterioration fabric, causing it to rot and ultimately results in unacceptable failure.
2) Sunlight has a harmful effect on the performance of threads, and over time causes their deterioration.
Warrior only uses the highest quality nylon threads imported from the USA which are treated against both UV and Mildew.
Fiber Resistance to Acid - Good
Fiber Resistance to Alkali - Good
Fiber Abrasion Resistance - Excellent
Fiber Resistance to Heat - 142 deg C (Highest continuous temperature before breakdown)
Fiber Melting Point - 265 deg C
MOLLE System
This product uses MOLLE to connect to other items creating a modular and adaptive system.
* Products may differ from the picture shown due to product improvements over time
MOLLE Webbing
This product contains MOLLE webbing that will allow you to attach other pouches using the MOLLE system.
25mm (1 Inch ) Breaking Strain: 1200 lbs
38mm (1.5 Inch ) Breaking Strain: 1800 lbs
50mm (2 Inch ) ) Breaking Strain: 2200 lbs