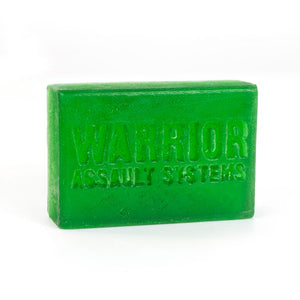 Warrior Assault Systems Promo Soap - Military OD Green
Tea tree and eucalyptus (green)
Tea tree is a highly effective against microbial activity and has been documented in numerous medical studies to kill many strains of bacteria, viruses and fungi. One of tea trees main benefits is its ability to fight Fungal infections (especially Candida, jock itch, athlete's foot and toenail fungus), it is also highly effective against boils from staph infection.
Eucalyptus the essential oils extracted from eucalyptus leaves have powerful medicinal properties Eucalyptus oil has antimicrobial and antiseptic properties that are effective at treating wounds, burns, cuts, abrasions, sores and scrapes
USES
Ideal for use by all Military personnel, and those involved in strenuous sports, (Running, Crossfit, Boxing, Ju Jitsu, MMA, Muay Thai etc) and outdoor pursuits.