Posted by Store Admin on

Xshears are some of the most respected trauma shears on the market and are perfect for nurses, EMTs, paramedics, and any type of healthcare provider. They are designed to be tough and durable. With these shears, you won't have to worry about them falling apart or not being able to cut. The blades are titanium coated, and the lower blades are very finely serrated for extra grip of the material and better overall performance. These shears are not designed to be multi-functional or "tactical" like the Leatherman Raptor shears, but as far as shear cutting ability these shears are as...
Posted by Joshua Witteveen on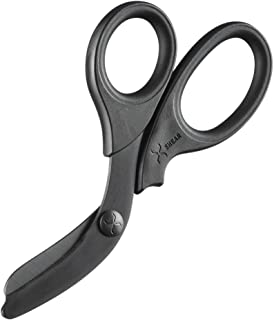 Truth be told, the XSHEAR Trauma Shears is certainly a class apart from its competitors. This clearly explains why it's priced higher than the others – and is yet a best seller. If you are looking for a firm trauma shear, and you don't mind dealing with a few extra grams of weight, then this is for you. It is made from a high-quality stainless steel material with a matte-looking titanium coating all over. Given this matte-finish, you should be able to get a handful of years of usage with it. There is a blunt tip and a center bolt...